For rising first-year college students, there is nothing more exciting than touring universities and planning your bright future. If you're planning to attend a college in the Southeast, consider a trip to Gainesville to explore the University of Florida! This prestigious school offers an array of phenomenal programs and research opportunities for students. Additionally, the UF Gators sports teams excel on the field as well as in the classroom. Plus, it doesn't hurt that the school resides in a beautiful region of Southern Florida, surrounded by so many amazing things to do and see. It's time to get excited about your University of Florida tour! 
After your campus tour, explore the charming town of Gainesville, then rest your head at Sweetwater Branch Inn. Check out our Gainesville Vacation Guide for local insight into the best things to see and do during your stay! 
Free Gainesville Vacation Guide 
The Ideal 
University of Florida Tour
Check out all the options below for exciting tours for prospective students. 
Schedule a Student-Led Tour
There's no better way to experience the University of Florida than through the eyes of a student who currently attends the school. Schedule a student-led group tour to discover everything you have to look forward to when attending this prestigious institution. The tour lasts about 90 minutes and gives you an in-depth glance into your future! You might even learn about some of the university's cherished traditions while you're there, like the "Gator Chomp"!  
Utilize the Self-
Guided Tour
 Map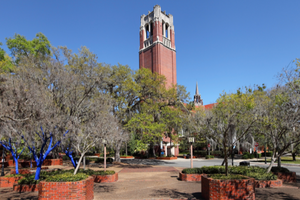 Maybe your schedule doesn't allow for a scheduled walking tour led by current students. Embrace your freedom and take advantage of the self-guided tour map. You can show yourself around campus at your own pace and take it all in. It's a one-of-a-kind opportunity to spend more time at the different buildings that interest you the most, like the Wayne Reitz Student Union or Ben Hill Griffin Stadium. 
Note: The university suggests starting your tour at the Reitz Union Drive so that you may follow the route in the same order used in guided tours. 
Take the 
Virtual Tour
The university also offers an excellent virtual tour option that allows prospective students to get a sneak peek of what's in store for them when they visit in the future! You'll download an app and follow along the tour route on your phone. The tour provides inciteful photos and audio clips to give you a realistic idea the campus. 
Register for 
Information Sessions
The University of Florida Office of Admissions offers virtual information sessions. They give students and family members to learn more about the university community and ask burning questions. This is a perfect way to get more acquainted with the school before you visit in person. 
Explore the Town of Gainesville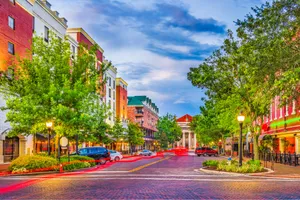 The University of Florida campus boasts many unique attractions, but there's still so much to see off-campus! After your University of Florida tour, take the time to explore Gainesville and picture what your life will be like when you go to school here. Some of the best things to do in Gainesville include: 
Stay at Sweetwater Branch Inn
When you're looking for the best place to stay in Gainesville when you're visiting the university, look no further than Sweetwater Branch Inn. We're located in the heart of downtown Gainesville, keeping you close to all the area's best attractions. Not only do we offer an array of beautiful suites within the McKenzie House and Cushman House, but we also offer spacious cottages, perfect for families!  
Whether it's your first time exploring the University of Florida, you're moving your new student in, or you're visiting your enrolled child, Sweetwater Branch Inn is the perfect home-away-from-home.