Who doesn't love a good road trip? Heading out onto the open road with friends, family, or just some time away for yourself gives some of the best feelings of freedom out there. Unfortunately, that free time can quickly turn into boredom. If you are one of those lucky individuals who's making the trip from Miami to Gainesville, check out this list of activities to turn the monotonous drive into an exciting adventure! 
Getting to Gainesville is only half the battle, get our free Vacation Guide and make sure that your time here is just as fun as your time on the road! 
How to Get There
Considering the length of this trip, there are several opportunities to get from Miami to Gainesville. Planes fly between the two cities, only taking one hour to get there. You could also take several buses, taking anywhere between seven to ten hours! This guide is for the sweet spot in between: a car ride lasting about six hours with stops giving you the freedom to stop where you want to stop and see what you want to see. 
Recommended Stops from Miami to Gainesville
1. Heathcote Botanical Gardens
The Heathcote Botanical Gardens are just two hours into your drive. Their beautiful property is on the mission to educate and inspire through the amazing gardens and act as a resource for the conservation of the environment. The Gardens are ready for visitors interested in any kind of plant, as they maintain six different exhibits with differently maintained climates. So, you'll see anything from a Mediterranean climate to a tropical one.
2. Universal Studios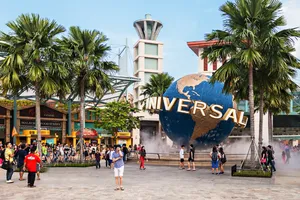 Cutting your trip from Miami to Gainesville in half with a big stop can be so important to avoid driver fatigue. Conveniently, Universal Studios in Orlando is right at that halfway point and can give you a chance to hop on some rides that go as fast as you wish you could on the highway! Hop out of the car, stretch your legs while you walk around this top-rated amusement park, and get some thrill before you have to hit the road again for the final leg of the trip!
3. Grab a Bite in Ocala
You're almost there! On your way to Gainesville, you'll drive through Ocala, which is the best spot to get some food before you get to your destination. The restaurants we recommend most are Latinos Y Mas, La Cuisine French Restaurant, and Amrit Palace Indian Restaurant. If you aren't in the mood for any of those, you can probably already tell that Ocala is far from short of variety when it comes to food. With a satisfied appetite, you only have 45 minutes left to go! 
Rest at the Sweetwater Branch Inn
After a long day on the road, we have exactly what you need! Sweetwater Branch Inn is operated out of a renovated Victorian-style property that includes two main houses and seven cottages. In addition to our historic rooms, the grounds host a saltwater swimming pool, beautiful gardens, a scenic bridge, and seven unique fountains. Our comfortable accommodations and renovated property will be waiting for you to come rest, and then explore the unique, historic town of Gainesville, Florida!