Gainesville is a fun and vibrant city to visit. It's not just a university hub: it's a destination all its own! Once you start looking for things to do, you discover a wide array of activities, shops, and restaurants to explore. Whatever you decide to get into, you're sure to have an unforgettable time. Read on to discover some of our favorite things to do in downtown Gainesville, FL, and start planning your visit today!
Did you know that we also offer a free Vacation Guide? You can learn even more about the best local restaurants, shops, events, museums, outdoor adventures, and more. Don't wait another second — grab your copy below!
You'll Love These 11 Things to Do in Downtown Gainesville, FL
MORNING
Cade Museum
The Cade Museum is a great way to start your day in Gainesville. You can participate in exciting programs and events, admire creative installments, and educate yourself on new technologies. 
Depot Park
Once you're done exploring the museum, go for a lovely stroll at Depot Park. This new addition to the city is ideal for a break in nature and is right around the corner from the Cade. They even have a conservation area with wetlands and wildlife!
Matheson History Museum
Travel back in time in one of the best museums in Gainesville. The Matheson History Museum dives into Florida's rich history and showcases the rich cultural significance of the state. Their exhibits rotate regularly, so you might want to go back even if you've visited it before. 
LUNCH
Big Lou's N.Y.-Style Pizza
By lunchtime, you will be starving. If you want to try one of the best pizzas in Gainesville, head over to Big Lou's! Their crunchy crust and tomato sauce are to die for. The garlic rolls are also a must-try. Trust us — you won't regret it! 
AFTERNOON
Union Street Station
Shopping is a great way to digest, so once you're done eating your delicious Big Lou's pizza, go to Union Street Station and indulge in a little retail therapy. It's one of the coolest spots in town. Music lovers can thumb through old vinyl records at Hear Again, while art collectors and enthusiasts can browse the selection at the Artisans Guild Gallery. 
Third House Books & Coffee
Are you a bookworm? If so, you need to stop by Third House Books & Coffee. This charming independent bookstore is a great place to encounter works by undiscovered modern writers. Do you want to know the best part? Once you find your book, you can order a coffee and start reading right there! 
DINNER
Boca Fiesta
One of the coolest dinner spots downtown is by far Boca Fiesta. This Tex-Mex restaurant is a big part of Gainesville's history. Back in the 1990s, it used to be the famous Hardback Cafe, where numerous rock bands played every week. Did you know that the actor River Phoenix (brother of Joaquin Phoenix) used to play there all the time with his band Aleka's Attic? Pay close attention to the eclectic decor and you might spot some plastic dinosaurs hanging on the ceiling beams. 
Manuel's Vintage Room
For the ultimate romantic dining experience, book a table at Manuel's Vintage Room. They serve rich, classic Italian flavors that are absolutely mind–blowing. Make sure you pair your dish with a fine glass of wine from Manuel's private cellar.
NIGHTTIME
The Arcade Bar
Who doesn't love an arcade? Play all your childhood games at The Arcade Bar. With three floors of the bar to cover, you can spend all night showing off your competitive side while indulging in a drink (or two) in between.
Hardback Cafe
Remember how we told you that Boca Fiesta used to be a live music venue? Well, after being closed for more than 20 years, the original owner officially reopened the Hardback Cafe a few streets down and regularly hosts local and passing musicians. The venue is small and features an authentic, intimate atmosphere that music lovers will adore. 
Rockey's Dueling Piano Bar
Rockey's Dueling Piano Bar is one of the most interesting bars in town. It's a fabulous spot to listen to talented pianists flex their skills on stage while performing audience requests. Don't forget to ask about drink specials!
Loosey's Downtown
If it's a delicious draft beer you crave, then Loosey's Downtown has what you're looking for. There's nothing like pairing a frothy beer with live music and entertainment. Catch a local show or team up for trivia while sharing a cold one with your friends.
Make Your Trip Better and Stay at Sweetwater Branch Inn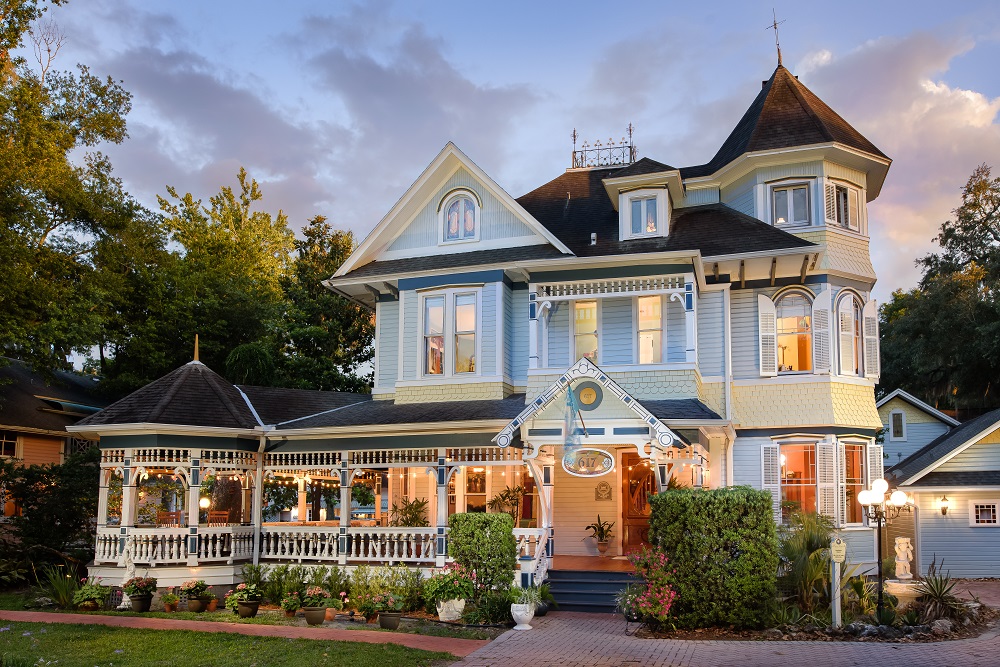 We bet this blog inspired you to take a vacation to Gainesville! Picture yourself walking down the street, admiring the lights of the city, and experiencing local flavors. The only thing missing from your plans is the perfect place to stay. Sweetwater Branch Inn is only a short walk away from Gainesville's best shops, restaurants, and entertainment! Choose one of our splendid accommodations like Mae's Cottage and unwind like never before. Our property is a lush oasis, tucked away from the city but near all of the best things to see and do in the area. Did we mention that every room comes with a delicious, homemade breakfast? We know you're going to love it here and we can't wait to host you!